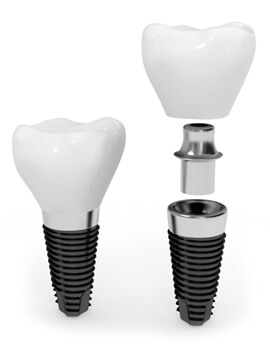 Dental Implants
Dental implants are an exciting alternative for replacing missing teeth. With dental implants it is possible to give you back those missing teeth and provide a second chance at a healthy smile. They can be used to replace individual or multiple teeth using cemented restorations, such as crowns or bridges, or by providing ideal retention and stability of denture teeth.
What will a dental implant do for you?
They will help prevent permanent bone loss due to missing teeth
They are a more conservative treatment option because there is no alteration of natural teeth
They help keep other teeth in position
The results are natural looking
They are a life-long solution with a long-term cost benefit
They will improve quality of life by helping to restore function, health and confidence
Dental implants are part of our smile enhancement treatment options that may be recommended depending on the circumstances.